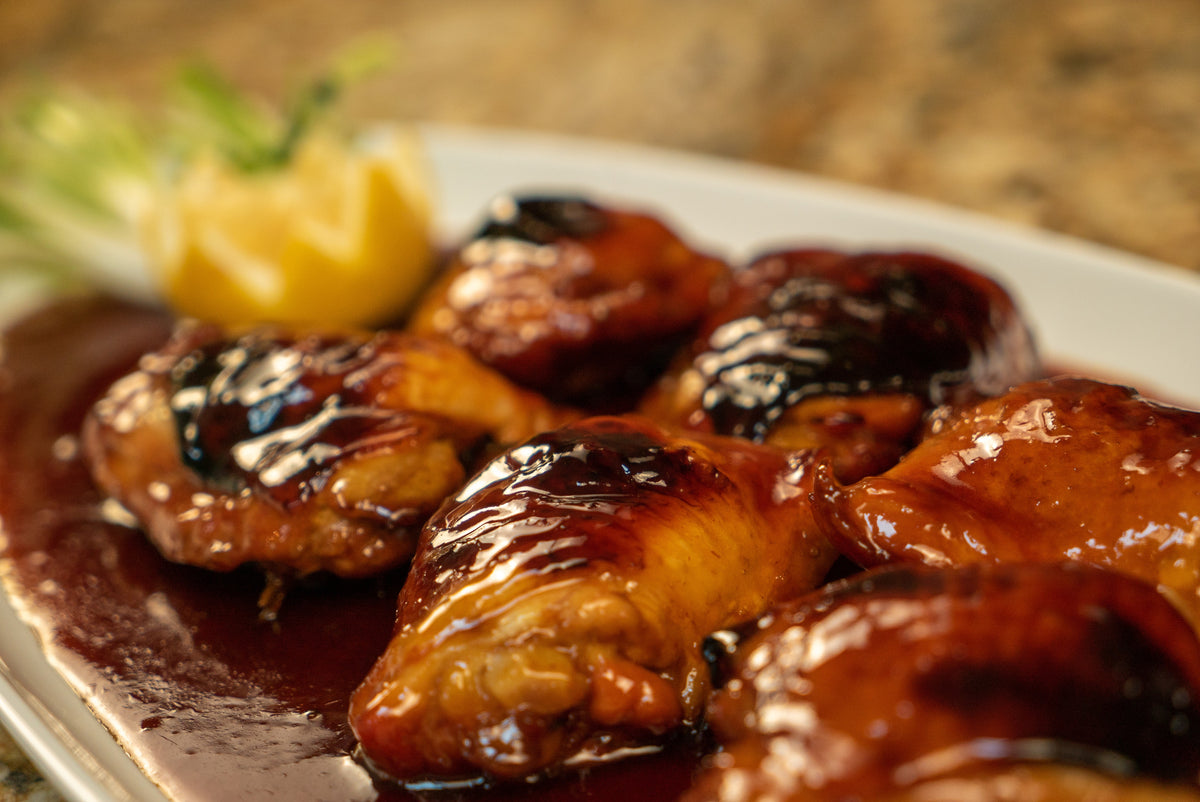 Ingredients:
Yield: 4 Servings
4 lb. / 8 pieces Chicken thighs, bone-in w/ skin
Sea salt & white pepper
Edo Teriyaki Sauce (gastrique):
Yield: 2 Cups
1 Cup Sugar
1/4 Cup Water
1/2 Cup Red wine vinegar
1 Cup Kuze Fuku Yuzu Teriyaki with Ginger Sauce & Marinade
Preparation:
Pre-heat oven set on convection to 350ºF. Season the chicken thighs on both side with salt and pepper, place the chicken in a large skillet and pour 1.5 cup of the Edo Teriyaki sauce all over the top of the chicken thigh. Bake in the oven for 35 minutes to a Mahogany brown color until the internal temperature reaches 160ºF.
Remove the cooked chicken thighs from the skillet to a serving platter and keep warm; bring all the cooking dripping in the skillet to a boil and reduce by a 1/4 until the sauce coats the back of a spoon. Spoon the reduced Teriyaki sauce over the top of the chicken. Serve with steamed Koshihikari rice.
To make the sauce, in a 3-quart saucepan bring the sugar & water to a boil and make a caramel; when the caramel become dark brown (not burned) carefully add the vinegar (there will be some splashing), then add the Yuzu Teriyaki with Ginger Sauce & Red wine vinegar.
Note: This Edo Teriyaki chicken is also delicious served cold with a salad.