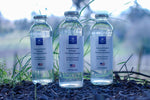 Kuze Fuku & Sons is pleased to announce the start of sales of hand sanitizer for individual and professional use!
UPDATE: Our hand sanitizer has been discontinued, due to recent changes in shipping restrictions. Your understanding is appreciated.
This Hand Sanitizer is made by St.Cousair, Inc., a food and beverage maker located in Newberg, Oregon. Our company normally produces apple cider vinegar drinks, jams, sauces, and other grocery items for sale online and in regional grocery stores under the brand name KUZE FUKU & SONS.
Due to the current medical crisis, we decided to use our resources to produce this hand sanitizer as a way of giving back to the community and to the American people who so generously welcomed and helped us when we first arrived from Japan and started our business here in 2017.
It is our hope that this product will in some way return the favor and provide some help to hospitals, medical personnel, and others in our community working tirelessly to help all of us through this difficult time.
Serving the community during difficult times
To help both individuals and professionals in the battle against COVID-19, we decided to bottle this hand sanitizer using the same size 16 fl. oz. glass bottles that we use for our Concentrated Apple Cider Vinegar juice drinks. This hand sanitizer is not a gel and has no added fragrance. It contains 75% Isopropyl Alcohol, as well as glycerin, hydrogen peroxide, and purified water. The bottle is recyclable and is a convenient size for both personal and professional use.
Our hand sanitizer is made in accordance with FDA regulations and concurrent with WHO guidelines. From our initial run of 10,000 bottles, we donated the first 2,000 bottles of hand sanitizer to local hospitals, churches, and governments.
Read more here.