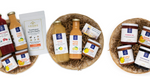 Kuze Fuku & Sons is pleased to announce the sale of Gift Sets!
Our new Gift Sets are ideal for birthdays, the Holidays, or any occasion where your loved ones would enjoy the rich, delicious flavor of Kuze Fuku & Sons products!
Each set comes with a charming basket which will be pleasing to the eye the moment they open the box!