On Sale
POPULAR ITEM!
DRESSINGS & SAUCES
YUZU MISO PREMIUM SAUCE 11.8 fl. oz.
Now NEW & IMPROVED!
Crafted from our popular original recipe Yuzu Miso Dressing sold both in Japan and in the US, this multipurpose sauce with its delicious blend of Yuzu citrus and miso will add a savory flavor to your salad, or as a delightful ingredient in your favorite recipes.
INGREDIENTS: Water, Premium White Miso (rice, soybeans, sea salt, alcohol), White Grape Juice Concentrate, Apple Cider Vinegar, Honey, Yuzu Juice, Gluten-free Soy Sauce (soybeans, salt, alcohol), Corn Starch, Xanthan Gum
---
ALLERGEN INFORMATION
CONTAINS: SOYBEANS
---
---
PRODUCT DETAILS
Product Type: Dressings & Sauces
UPC#: 857790008460
Product Dimensions: 7.75" x 2.4" x 2.4"
Shipping Weight: 1.34 lb
Volume: 11.8 FL OZ (350ml)

PRODUCT OF USA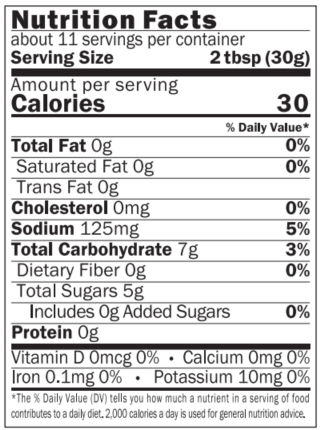 Yuzu and miso, a delicious blend of fragrant citrus with the savory flavor of miso.
YUZU MISO PREMIUM SAUCE 11.8 fl. oz.
Our original recipe sauce crafted with the refreshing taste of Yuzu citrus, combined with the savory flavor of miso.
Kuze Fuku & Sons brings customers a unique hybrid of traditional Japanese cuisine and the culinary craftsmanship utilized in creating it, together with the richly flavorful ingredients and ingenuity of western food culture. Our Yuzu Miso Premium Sauce exemplifies this brand concept, offering a unique blend of refreshing citrus with the umami flavor of authentic miso.
Photo: Nikita from Russian Federation / CC BY
The Refreshing Taste of Yuzu Citrus
Yuzu is a unique citrus fruit believed to have originated in Asia from a mandarin orange and the ichang papeda. It is a rare type of fruit that is not easily obtained and is prized for its zest and fragrant aroma.
Yuzu is commonly used in Japanese cuisine, much in the way that lemons are used in western cuisine. The fruit resembles a small grapefruit and varies in color from green to yellow to orange, depending on how ripe it is. It is rarely eaten as a fruit, but instead squeezed for its juice or the rind used for its zest, and used to add a refreshing citrus flavor and aroma to various dishes.
Blended with the Savory Flavor of Miso
Miso is a traditional Japanese seasoning made from fermented soybeans in salt and kōji, a common fermenting agent. Miso when created is a paste often used with dashi soup broth to create miso soup, one of the most commonly served dishes in Japanese cuisine.
Miso is typically salty, but depending on the fermenting process, it can add a sweet, salty, fruity, or savory flavor when used in various other dishes. When combined with yuzu citrus in Yuzu Miso Premium Sauce, the result is a delightful blend of zest, fruitiness, saltiness, and savory flavor.
Why it's so awesome...
A multi-purpose sauce, useful as a salad dressing, on top of meats, with fish, in BBQ, and in a wide variety of Japanese and Western recipes.
No added sugar, sweetened only with the fresh flavor of yuzu fruit juice and grape juice concentrate
The top selling sauce at 150 of our retail stores in Japan
A common ingredient in Kyo Ryori, the cuisine of Kyoto, a cultural and historical center of Japan.
Main ingredients, yuzu and miso, are both trending upwards in social media circles and in Google searches.
Made in the USA
Yuzu Miso sauce used in everything from high-end Kyo Ryori, to homemade meals, to Western recipes.